About us
Thun Tankers – A part of Erik Thun AB
Thun Tankers started as a company in November 2012.  The owner of Thun Tankers, Erik Thun AB, however is by no means a newcomer in tanker industry. In 1952 the company obtained its first tanker and since then the company has used its experience to continuously develop and tailor make modern tankers based on its customers requirements. Over the years Erik Thun AB has grown to become a major player in the North European tanker market.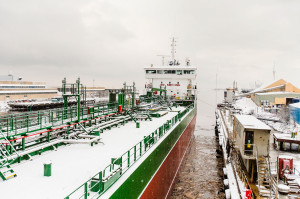 Today we in Thun Tankers operate 16 vessels of which 13 are fully owned and 3 belonging to our close partner Wisby Tankers. Together we have a high ambition to add value to our customers by offering sustainable and efficient cargo transport solutions. With many sister vessels to choose from we can offer reliable logistics with vessels in the right position at the requested time.
MF Shipping Group – Ensuring quality

MF Shipping Group takes care of our quality, technical management and crewing of our owned vessel from the delivery and that is a cooperation that we are very proud and satisfied with. MF Shipping Group was founded in 1994 and today manage a fleet of about 50 vessels providing business for 50 office and 1000 onboard employees.
Wisby Tankers – A close commercial partner

Wisby Tankers is a close partner to Erik Thun AB. Wisby started up as ship owners over ten years ago when they acquired their first vessel. Today the company has more than 500 employees onboard and ashore, managing 16 modern vessels, from small coastal tankers to MR and LR1. Our cooperation in this segment started in 2009 and together we believe we can strengthen our business offering.
Gothia Tanker Alliance – Increasing excellence together
Together with Furetank and Wisby Tankers we have created a marketing cooperation in order to widen our offering and increase the alternatives for our customers.