Vessel design
Our own vessel design
In the late 1990's, Erik Thun AB concentrated on dry bulk vessels, but Anders Källsson, Erik Thun CEO, couldn't stop thinking about tanker vessels and how they could be built more efficiently. He started to design a vessel that made for short crossings, lots of port visits, be efficient to load, unload and maintain. He specifically thought about the short sea shipping in northern Europe for product distribution. He found that the market didn't have any really good vessels for this purpose and in consultation with with the shipyard Ferus Smit he chose a 6,500 tonner. Two such tankers were ordered and a new collaboration began between Thun and Brostrom as owners of 50/50 in each vessel.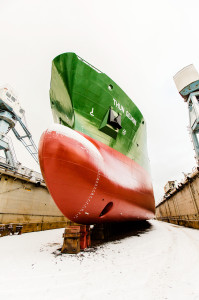 It turned out that many of our customers wanted vessels of this type and the two shipping companies quickly ordered eight more, this time each around 7,500 tons dwt. They became known as the G-types, as they all had names beginning with Bro G; Grace, Glory, Globe, Galaxy etc. Since the first of delivery of our G-class tanker, crewing, quality and technical management has been handled by our close associated manager Management Facilities Group.
In 2012 Erik Thun AB bought the 50 share of all the G-vessels and changed their prefix from Bro to Thun and started Thun Tankers who took over ownership of the vessels and commercial management.
Smooth port turnaround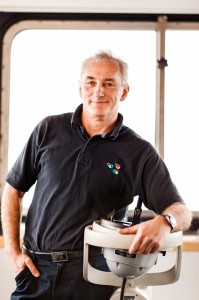 In this trade, where most time is spent alongside in port, the G-vessels really make a difference. The pumps and pipes in the cargo tanks are designed to ensure a rapid handling of the cargo and the tanks can be emptied almost completely.
-When we come alongside, we are often able to discharge faster than the receiving end can handle. Then we can quickly drain the tanks with our vacuum system and be ready to reload at the same terminal. We are quite popular in the ports,  says Frank van der Elsen, master of Thun Gemini.  He has been the master of several G-vessels since 2000 and calls himself a fan.
-They are quite small and don't have any fancy extras, but they have proven very reliable. Everything works on them all the time, even in this intense trade.