Intermediate newbuildings
Thun Tankers orders series of five 17,500 dwt IMO II tankers
– The vessels to enter the Gothia Tanker Alliance network 2019-2020

Thun Tankers, part of the Gothia Tanker Alliance, has recently added one vessel to the previously contracted four 17,500 dwt IMO II product/chemical tankers to be built at the Avic Dingheng Shipbuilding Ltd in China. Furetank Chartering, responsible for the intermediate size segment in the Gothia Tanker Alliance, will commercially manage the vessels.
The Erik Thun Group has a long history of building efficient high quality vessels. The ordered new-buildings have been carefully tailor made to meet our clients' high demands. Focus on energy efficiency, sustainability, new regulations and customers' needs has been key in the development process. The vessels that will be built to the absolute latest design are expected to be delivered between April 2019 and January 2020.
"In Erik Thun, we have a long history of building, owning, and operating both tankers and dry cargo ships in different sizes and with different trading areas, always with the focus on our clients' needs. We have built and operated intermediate size product tankers in the past and are comfortable to re-enter into the intermediate segment with our new-buildings. To commercially place the vessels with our close partner Furetank was a natural decision for us"
-Anders Källsson, Managing director, Erik Thun AB
Furetank Rederi AB, Thun Tankers and Rederi AB Älvtank have previously ordered a total of six 16,300 dwt high quality intermediate tankers with LNG propulsion. These vessels, that currently are under construction, are being built at the same yard as the now contracted vessels.
"Thun Tankers' new vessels will further improve the Gothia Tanker Alliance customer offering as well as our position as a provider of safe and efficient refined products transportation".
-Lars Höglund, Managing director, Furetank
With this new contracting, the Erik Thun Group has a total of twelve new-buildings on order.  In addition to six intermediate tankers, Thun has contracted four 8,000 dwt coastal tankers at Sheepswerf Ferus Smit in the Netherlands with delivery in 2018-2021. Thun are also building two ice classed dry cargo ships at the same yard with delivery later this year.
"With the investments in intermediate tankers we do not only deepen our good co-operation further with the partners in the Gothia Tanker Alliance, together with our smaller coastal tankers we can also widen our joint offering towards our customers"
– Johan Källsson, Deputy Managing director, Erik Thun AB
New 17,500 dwt tankers details:
Delivery: From April 2019 to Jan 2020
Dwt: 17,500
Cubic: 21,000 m3
Ice class: 1C
Cargo Heating: Yes
IMO: Type II
LoA: 149.8 m
Beam: 22.8 m
Draft: 8.5 m
Coating: Phenolic Epoxy
A Sustainable Environmental Investment
Thun Tankers has also, together with partners of the Gothia Tanker Alliance, ordered next generation Intermediate Product/Chemical Tankers with LNG propulsion. The Alliance recently contracted six newbuildings to be built at Avic Dingheng Shipbuilding Ltd, whereof Thun Tankers will own one that will be delivered during 2018/2019.
The vessels will be built to a design, developed by FKAB together with Furetank with special focus on minimal impact on the environment, with close to 50 % reduction of CO2 emissions. The vessels fulfills the Tier III rules, have dual fuel/LNG propulsion including LNG in port consumption, LNG for inert gas production, power production with floating frequency, battery backup (UPS) for all vital functions to minimize use of auxiliary engines, installed ballast water cleaning system, ice class 1A and Alternative Propulsion System.
The vessels will be commercially managed by Furetank Chartering in the Gothia Tanker Alliance.
"We in Erik Thun have always had a high focus on cost awareness and resource efficiency that translates into modern environmental care. Having built the worlds first dry cargo vessels that uses LNG as a fuel is an example of that. Therefore we are convinced that these vessels will contribute to provide the best logistical and most environmental friendly transport solution to our customers" – Anders Källsson, CEO Erik Thun AB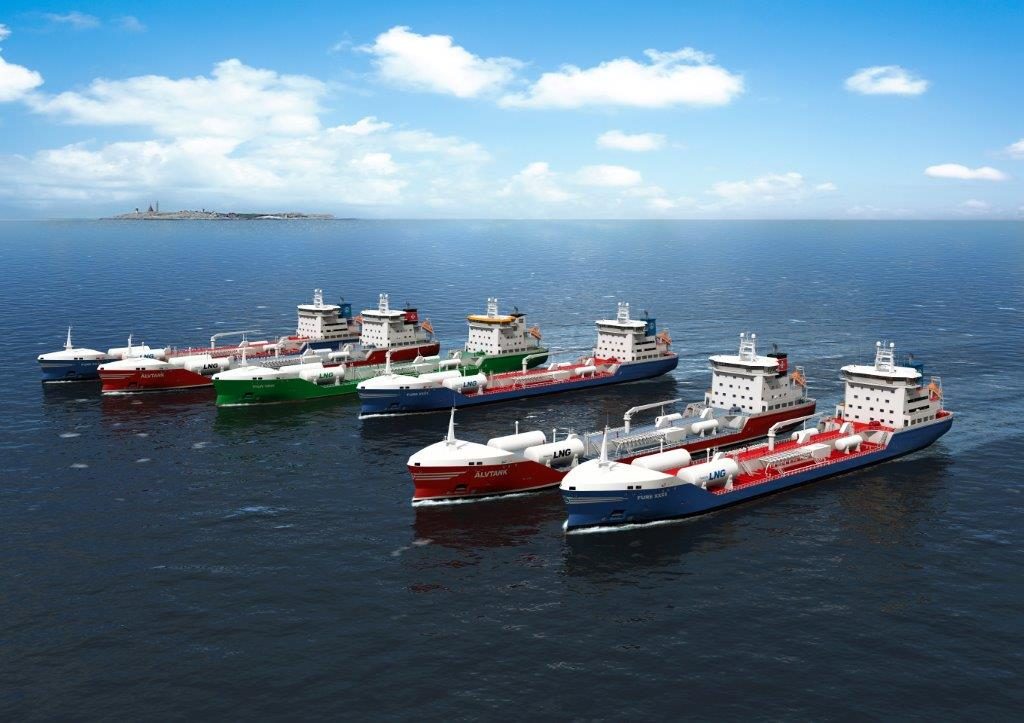 Vessels Facts:
Deadweight                         16,300 tons
Cargo capacity                    20,000 m3
L.o.A                                          149.9 m
Beam                                            22.8 m
Draft                                               8.8 m
Main engine output            4,500 kW
Emission Reduction:
CO2                            49%*
NOx                            84%
SOx                             99%
Particles                   99%
*CO2 can be eliminated if bio-gas is used